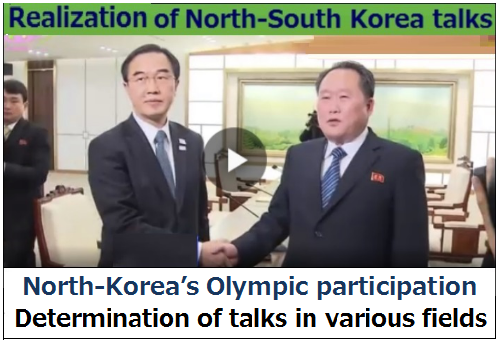 North-South talks were finally realized on January 9, 2018.
I hope this talks will be the Full-scale first step towards 
"A North-South reconciliation" and "The reconciliation of 
the US and North Korea".
Buddha preached "three poisons of greed, anger, grumble" 
as a mental action that bother man's mind and brings 
unhappiness to the hearts of man. This is called "BONNŌ".
And he set up as the treatment method as follows.
   1 Unclean against greed
   2 Mercy against anger
   3 Correct logic against grumble
Applying this to today's North Korea situation, the greedy 
ambition of North Korea to oppose the opposition of the 
surrounding countries, and try to do nuclear development 
endlessly is "greed".  Against which, the UN's severe sanctions 
Resolution, etc. corresponds to "unclean".  (What is meant "unclean" is to make you feel vile and dirty 
obstinacy of greed and make you aware of  your mistakes)
Also, the fierce anger that North Korea faces towards 
neighboring countries such as the United States, Japan, Korea, etc. is "anger" . Against which, the attitude that neighboring countries are trying to deal with peaceful dialogue and economic policy is equivalent to the "mercy".