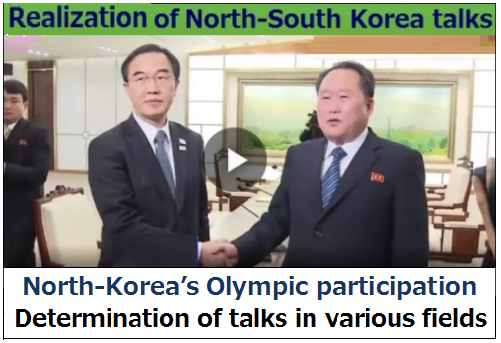 North-South talks were finally realized on January 9, 2018.
I hope this talks will be the Full-scale first step towards 
"A North-South reconciliation" and "The reconciliation of 
the US and North Korea".
Buddha preached "three poisons of greed, anger, grumble" 
as a mental action that bother man's mind and brings 
unhappiness to the hearts of man. This is called "BONNŌ".
And he set up as the treatment method as follows.
   1 Unclean against greed
   2 Mercy against anger
   3 Correct logic against grumble
Applying this to today's North Korea situation, the greedy 
ambition of North Korea to oppose the opposition of the 
surrounding countries, and try to do nuclear development 
endlessly is "greed".  Against which, the UN's severe sanctions 
Resolution, etc. corresponds to "unclean".  (What is meant "unclean" is to make you feel vile and dirty 
obstinacy of greed and make you aware of  your mistakes)
Also, the fierce anger that North Korea faces towards 
neighboring countries such as the United States, Japan, Korea, etc. is "anger" . Against which, the attitude that neighboring countries are trying to deal with peaceful dialogue and economic policy is equivalent to the "mercy".
Also, it can be thought of as follows: If the treatment of "unclean
and mercy" against greed and anger is not to be effective even 
though it has been taken many times, "grumble" that is 
the third BONNŌ, has issued strongly in the back of mind 
and it has not been treated yet – – such reason is thought. 
If there is grumble in the back of the heart, it will often be 
overturned later even if it is once improved.
Grumble arise from wrong viewpoints, prejudices, etc. Buddha's 
teaching that "Correct logic is necessary in order to correct 
grumble" means that it is necessary to destroy the underlying 
wrong idea and view.  And then establish the correct way 
of thinking and logic.
In my last post, I told the following: North Korea issued a 
"Deep retribution heart" against the massive damage suffered 
in the Korean War. And that has become one of the fundamental 
motives of continuing to pursue nuclear development to this day. 
In this case, we can find grumble (stupid wisdom) in the process 
of connecting retribution to nuclear development. 
The "Correct logic" is that if retribution occurs, connecting it 
to friendship with neighboring countries, not to nuclear 
development, and leading it to efforts to realize peace with 
other countries. 
It is a way to stop future warfare and is a true way to reward 
victims of past war. Also, it is the greatest security.
In this way, if you break the wrong idea and prejudice which are 
underlying nuclear development, and establish the correct logic, 
you can cure the grumble. And if you can cure the grumble, 
there is a possibility that "treatment methods of Unclean and 
Mercy against greed and anger" that have been taken by the 
United Nations and neighboring countries until now, can 
demonstrate power effectively. 
When three diseases are occurring at the same time, three 
medicines are needed.
North Korea should build a powerful peaceful nation that does 
not depend on nuclear weapons and should present exemplary 
to the world. To welcome the inter-Korean talks this time.
ALAMCOMMUNICATION @ALAMCOMMUNICAT1
URL: https://twitter.com/ALAMCOMMUNICAT1