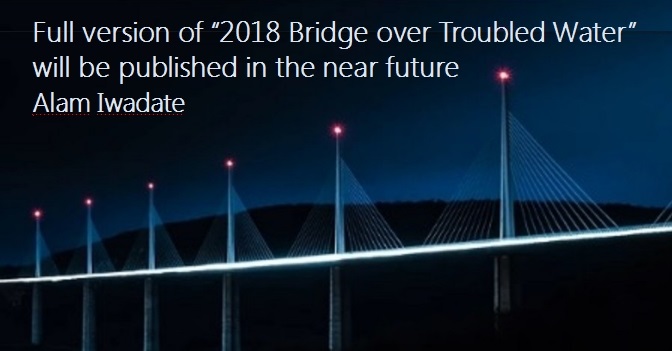 Hello, Dear everyone. 
How is everything going?
Thank you very much for always 
having a sincerity comment.
I did not anticipate at all, that 
I could receive comments from 
so many people. I'm really happy. 
I also appreciate it.
I am reading in detail the comments 
posted in the lower widgets and the 
comments that can not be posted.
I can not reply to everything, but —when replying to everything, there is 
no time to write a new post —your 
sincere heart has reached well in 
my mind. Thank you very much.

When I was a student half a century 
ago, I used to love America and the 
UK and I had a dream to talk with 
everyone.
I decided to go to the "American 
school in Japan" in high school, and 
I entered. However, I was good at 
Chinese writing but not good at 
English, so that I could not express 
what I wanted to say exactly in 
English for a long time, no matter 
how much I studied. In translation 
into English, it became a sentence 
of another meaning. However, in 
recent years, with the advent of 
Google Translate and AI, it is finally 
possible to express them correctly 
in English. It is very welcome.
*
I think that one of the most 
important things today is to 
establish peace and 
international cooperation in 
the international community. 
Human society now has weapons 
of extremely powerful killing ability. 
If those are used for war and conflict, 
those will bring catastrophe to 
many citizens.
Even if it is inevitable that the 
armys of each country exist, 
it is absolutely necessary to 
avoid wars and conflicts 
between the military. If the 
collision between the military, 
soldiers and their families are 
sorry. In addition, a great sacrifice 
and destruction will also occur 
in civil society. Therefore it is 
absolutely necessary to build, 
for the future as well, the 
"foundation" of international 
peace and international 
cooperation right now. 
I believe that it is each citizen 
who builds its foundation.
I think about how to build it 
will be almost fundamentally 
clarified in my next post. The 
power and action of each of 
you, and your wisely judgment 
is indispensable. Also, it will be 
life line.
*
The next post has already been 
made up to 80%. It will be posted 
shortly. It consists of 10 sentence 
titles. However, many other things 
must be written on this site. But, 
the summary will almost fit in the 
next post and will end.
*
Next, my movie music "Full version 
of 2018 Bridge over Troubled 
Water" (above) is under construction 
now. For me who is not English 
native speaker, subtle accents in 
English are extremely difficult. 
The vocalization of this song is 
also difficult even I practice 
hundreds times.
*
I sincerely pray for your health 
and happiness. With your family 
members around you, friends, 
mates, colleagues in the company 
and people working together in 
the community, please talk to 
each other well, share well, 
help each other well, and have a 
meaningful good life. For me, 
it is the happiest time to imagine 
that situation.
Alam Iwadate