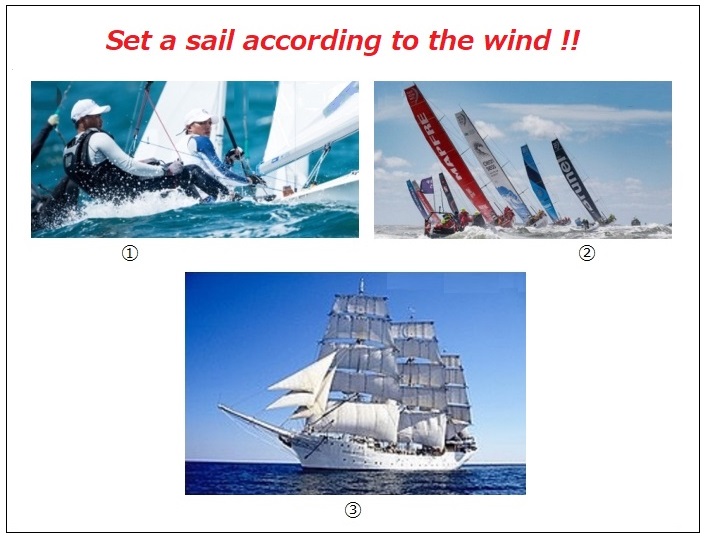 If you are working on one job now,
it is inevitable that resistance or
hesitation will occur.
Especially shortly after starting your
work, you will sometimes run into
a big wall of doubt whether
"Should I continue the work? " or
"Should I stop there? "
Even if it's a job you've planned for
a long time and started, that kind of
thing will occur.
"Should I continue from here or stop
here?"
You may be at a loss when making
a decision.
At that time, your position is the same
as a sailing ship sailing in the ocean.
The more the sailing ship advances,
the more the wind of the ocean blows.
In such a case, it is important to first grasp
that "Any work causes hesitation and upset."
And according to that recoil of resistance
and hesitation, you set up a sail of wisdom.
Like Yacht Racing ( Images ① and ② above ),
it's "Set up a sail according to the wind !!"
It is the same as "If you add oil,
the fire will gain momentum."
Concretely, you work your wisdom 
according to vacillation and reveal
the way.
Once the way is clear, the mind will
be stable, and you can move forward
smoothly.
Also, according to the "upset heart,"
raise up a "Strong heart to stop it," and
focus your mind on one.
That is the same as "if you set a sail
according to the wind, the ship will
gain more momentum and move
forward."