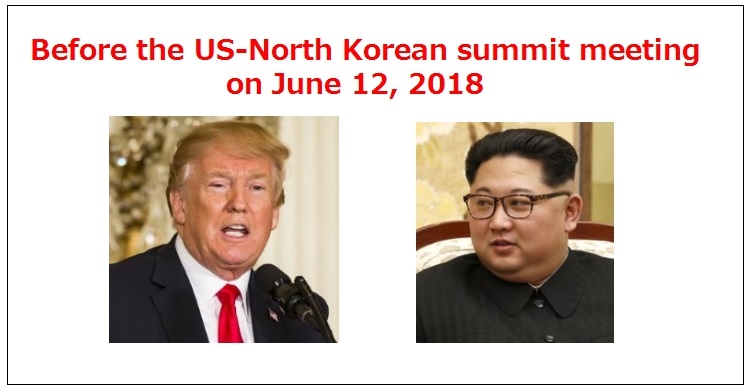 The summit meeting of the US-North 
Korea in Singapore on June 12 is near 
imminent. Holding a meeting is a great 
pleasure for people of all over the 
world wishing for peace. From the 
North Korea situation one year ago, 
it is a remarkable progress.
Last year at the end of 2017, when 
North Korea repeatedly launched a 
ballistic missile launch experiment 
and carried out the largest nuclear 
test ever in history (September 3), 
At this time, I think that Many 
Westerners thought that "This 
situation is similar to the Nazi 
Germany on the eve of the Second 
World War." 
However, the past Nazi Germany 
and today's North Korea have 
a fundamental difference in their 
underlying thought and purpose.
Nazi Germany's purpose of 
manufacturing weapons was 
"To invade other countries to 
achieve world domination.". 
On the other hand, the fundamental 
purpose of North Korea's nuclear 
development is "Security of the 
Korean Peninsula."
Now, in order to clarify the 
circumstances of Nazi Germany, 
I will look back to the era just before 
the Second World War. 
In this era of the west, if a country 
started manufacturing weapons, 
it was directly connected to the 
meaning of "Doing war in order to 
invade other countries."
Because weapons are different 
from products produced by 
businesses, no matter how much they 
are manufactured, they can not be 
sold on the market.