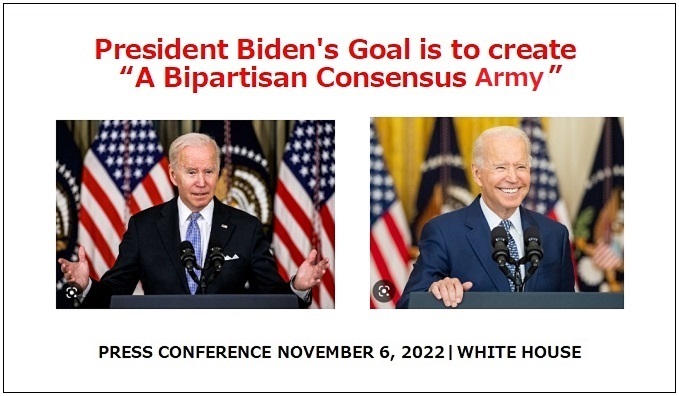 Looking Back at
the November 2022 Midterm Elections
In the midterm elections this time,
the Democrats put up a good fight,
contrary to the media's expectations.
As a result, the Senate held 50
Democrats and 49 Republicans,
giving the Democrats a de facto
majority.
In the House, Republicans won
a majority of 218 seats, giving them
the majority. Democrats were 211.
(As of November 17, 2011)
President Biden seems to have
gained a lot of confidence from
this election result, and early next
year he announced his intention to
run for the general election in 2024.
As the Democratic party's winning
factor, it was big that the success in 
attractingvotes from nonpartisan
voters, especially from young people,
who were strongly opposed to the
Abortion Issue.
Also, as a reason for the Democrats'
victory, CNN reported, based on exit
polls conducted in Pennsylvania, that:
"Many American voters chose
Decency and Honesty over extremism
and confrontation, despite having
the problem of inflation. And most of
the voters, who valued Decency and
Honesty, voted Democrat."
President Biden's goal was to
create a 'Bipartisan Consensus
Army'
The other day, when President Biden
was asked at a press conference about
the discord and conflict between
President Trump and Mr. DeSantos,
he said:
"It will be fun watching them take on
each other,"
Then, laughter spread from the press
corps.
President Biden can afford it.
Let's think about this background
for a moment.
About Mr. DeSantos, he was known
as a wise Republican governor, and
in this time election he won a landslide
victory the Democratic candidate in
Florida by about 20 points.
That DeSantos has a history of working
with President Biden to take measures
in disaster relief activities by Florida's
typhoon "Ian"(1) this time.
(1) By the way, although it was late,
this site Alam Communication would
like to express Deepest Condolences
to the many victims of Florida who
were affected by the large typhoon Ian.
I pray from the bottom of my heart
that recovery and reconstruction will
be achieved as soon as possible.
In this way, the stance of tackling
problems with "democratic and republican
bipartisanship" gains great support from
citizens.
In the past, during Hurricane Sandy 
in October 2012, President Obama
(Democrat), who was in office at the time,
rushed to the disaster area, and vowed
and acted with Republican Gov. Christie
for "Bipartisan Recovery Aid."
This action is said to have had a big
positive effect on Mr. Obama's re-election
in the presidential election a week later.
Also, Governor Christie's growing
presence in the national political arena
stems from his bipartisan cooperation
at that time.
Please hang on a moment.
I will post continuation in the
next few days.